Financing
Financing Parties
The total financing plan for the project reaches approx. PLN 957 million. It was approved by the public partner, i.e. Miejskie Przedsiębiorstwo Energetyki Cieplnej in Olsztyn.
Since the commencement of construction in mid-2020, the project has been implemented using an EU subsidy administered by the National Fund for Environmental Protection. EU co-financing under the Operational Program Infrastructure and Environment 2014-2020, Priority Axis II "Environmental protection including adaptation to climate change", Measure 2.2 Municipal waste management amounts to approximately PLN 172 million. The plant has also been supported by long-term financing from the Polish Development Fund (PFR) and the European Investment Bank (EIB), together with a group of Polish and international banks.
PFR provided mezzanine financing in the amount of PLN 48 million. In turn, the European Investment Bank provided a PLN 200 million long-term senior debt for the project.
Long-term financing with a maturity of 20 years is supplemented by commercial lenders – mBank, ERSTE Bank and Kommunal Kredit, Bank Ochrony Środowiska, Standard Chartered Bank (SCB). Pekao Bank finances the VAT credit.
Meridiam and Urbaser provide equity to supplement financing as part of implementation of the investment in Olsztyn.
Regular financial reporting allows the company's authorities to properly manage the project and forecast the results – including controlling of costs and monitoring of implementation of the investment. The control measures taken and financial procedures and policies adopted serve, i.a., for financial supervision, the tool for which is the regularly prepared financial reports. These reports are subject to analysis and evaluation in terms of implementation of the company's budget.
Documents implemented in the organization to properly manage financial issues:
Accounting policy
Procedure for handling requests for payment of EU Subsidies
Procedure for preparing accounting records
Payment cooperation procedure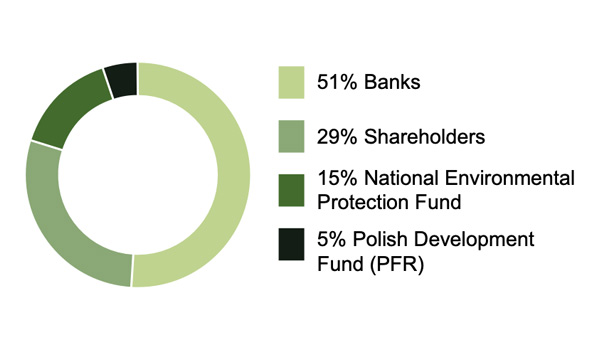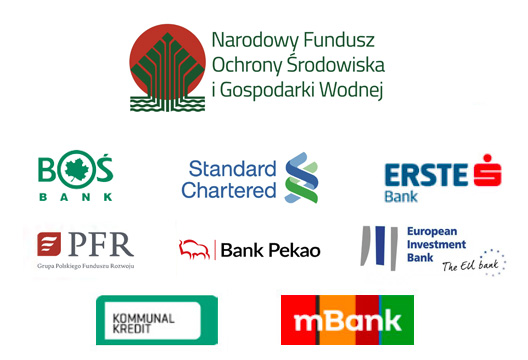 Green Loan – LMA Green Loan Principles certification
The 490 million senior debt was rated by Vigeo Eiris Group (Moody's) as compliant with the Green Loan Principles (GLP) of the Loan Market Association:
Use of funds (were clearly and precisely defined: project scope, use of funds, objectives and expected environmental benefits).
Evaluation and selection (the evaluation process was clearly and correctly defined, responsibilities were determined, the method of measuring the relevant environmental and social risks was correctly established).
Funds management (the process for managing and allocating proceeds is clearly and specifically defined, established for over a 36-month period).
Reporting (the process for reporting the use of funds, as well as the achievement of assumed environmental benefits is defined).
An audit conducted for the purpose of LMA Green Loan Principles certification confirmed that the Waste to Energy Plant built by Dobra Energia dla Olsztyna supports the achievement of the four UN defined sustainable development goals at the local level, which are: